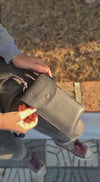 Measures: 17.50cm x 10,50cm
Material: Cowhide
Bandolier: Adjustable of 1,20m.
Unisex leather cell phone bag, with leather interior and magnet closure. Ideal for those who like to keep it simple and just want carry arround your phone and little more. It also has pocket, purse on the back perfect for coins or credit cards or transport. It has a sliding shoulder strap up to 1.20 cm
The material used is 100% Spanish cowhide, handmade in our shop-workshop. As such, it is possible that it may suffer from some variation in color, and small "imperfections" typical of leather. With time it loses rigidity and gains in elasticity.
*If you wish to personalize your bag to your liking, please contact us.